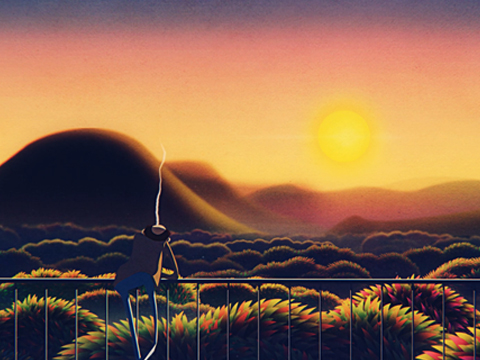 THE EVENING CIGARETTE
The Evening Cigarette, is a tribute made ​​by an entertainment writer, Matthieu Van Eeckhout, a former heavy smoker, to his good old friend, the evening cigarette.
The series is online since the 7th of January, with a new video each wednesday until the end of February, on the YouTube channel  THE EVENING CIGARETTE, on Studio 4 and France 4 + and other worldwide broadcasters.
THE CONCEPT of this international series (season 1: 10*1'):
An animated series in 10 very graphic tables, 10 small everyday moments completely innocuous veering to the absurd. An absurdity that can somewhat tend to dark, but always in a funny way that is full of surprises and unexpected moments.
« A close-up of a smoker and a sunset. The same gesture being repeated over and over again: then the smoker carelessly throws the end of his smoldering cigarette. The consequences are obviously fatal. Just like an anti-tobacco commercial is always followed by a short message –falsely- preventive. We want to place ourselves beyond the redundant health warning « Smoking Kills » (No way! really?!). The main idea is to add an offbeat note to the darkness of the gag. If the frame is the same, the consequences of the unfortunate act of smoking are each time totally different, unexpected and increasingly absurd" says the author.
Target : 15-30 years old (and more)
Edition : Studio 4.0 (France TV nouvelles écritures ) – YouTube world channel (France TV Distribution)
Worldwide TV & Web Rights Distribution : France Televisions Distribution – FTD
Co-Production : Fablabchannel / France Télévisions 
 With the participation of : League against  the Cancer 
Year : 2014

Format : 

10×1′

Genre : Animation
Director and author : Matthieu Van Eeckhout 
With the support of : CNC New Media (july 2014)